The Vittini Twins:
Mabel Vittini
Liliana Vittini
Painting and Refining Modern & Traditional Homes Since 1996
Click here to view a partial portfolio of our Commercial Projects including Hand-Painted Logo's and Murals!
Serving Broward & Palm Beach Counties in FL with a new location added in 2020 in North Georgia which offers all services with the addition of Special Events / Painting Events.
CUSTOM ART – MURALS – FAUX FINISHES
To order an Original Painting or Giclee (Print), please contact us directly.
We are the answer to any Home Decor challenge!
As a leading business in Custom Decorative Art, Design and Mural Painting; we specialize in Art & finishes on any surface. Decorative Artists are skilled artisans who use specialized tools, brushes, gels and glazes to create unique finishes. As a result of our Artists' unique skillset, you are able to achieve custom Art which will allow you to stand out from the crowd. When people come to visit, they can see through your eyes and perhaps open their minds to undiscovered creativity.
Vitti Art Decor & Painting is creative and knowledgeable with product application, techniques and design.  Allow us to bring that feeling in your home or business that you have been wanting. Need a color change or just a fresh coat? No project is too big or small for our team. 
For more information on Faux Finishing and all the many different techniques that we utilize on a daily basis, click here to read our blog.
Special Events Venue is based in our other location in Young Harris Georgia in the North Georgia Mountains. 2-3 hours from Asheville, Chattanooga, Atlanta & Greenville! Make us a part of the Family Vacation – You won't be disappointed!
About Vitti Art
Click her

e

to go right to our main Services Page.
Vitti Art Decor & Painting is a full service decorative and interior/exterior painting business. Consequently, there is a wide range of specialty custom Art services to explore!
Our Company's expertise has been established over 26 years of being based in South Florida.    As of 2020, a second location serving the North GA Mountains has opened. We work with Interior Designers, Builders, Private Clients and Corporate Organizations in both private homes and businesses.  Together with these professional interactions we have learned from the best of the best, how to continually exceed expectations.
Above all, Vitti Art Decor offers creative and functional ideas coupled with exceptional customer service.
As a rule, Vitti Art Decor provides clients the highest standard and quality of work.  Dedication to providing clients with the most personalized and trustworthy service is our stronghold. Accordingly, we have worked diligently and passionately to earn a high level of respect in the Art and interior design industry.  Communication is integral to obtain this. For this reason, updating Clients' throughout the project is key.  Vitti Art Decor relies on client satisfaction and referrals; creating an altruistic concept for all.  The goal is to create rewarding and long lasting relationships by delivering clean, detailed professional experiences.
Staircases, walls, ceilings, mantles, trim, furniture, columns, crown molding, floors and windows all can become a part of the decorative canvas that will become your new and beautiful home interior.
Contact our interior paint specialists to find out more about our faux finishing services. We can help create an amazing masterpiece!
To find out what can be expected once we have been commissioned, click here to read about our Artistic process.

Commercial
All of these decorative custom improvements find a place in offices and workspaces as well. Businesses can utilize the beauty & elegance that a custom faux finish, mural, or trompe l'oeil can provide. 
If it is a complete faux finish on the exterior of large commercial building that is desired, we have several projects that we have completed on this scale.
Hand-painted logo's, theme-based murals, interior painting, accent wall's and mind-blowing trompe l'oeil make your business stand out from others'. 
Interior Design Partnership
Vitti Art Decor & Painting works with prestigious Interior Designers in South Florida.   Our Staff has a deep appreciation for the vision and competence that it takes in making clients' visions come true.  Being a part of the entire creative experience is always exhilarating.
If you are an Interior Designer and would like to work with us, please contact us here.
Facebook Review: Andrea W., West Boca Raton
"I can't say enough about how gifted Mabel is as an artist! She takes your imagination and ideas then paints them..walls, ceilings, furniture and canvas! I've referred friends to her and none are disappointed. The entire team at Vitti Art are amazing, accommodating and a pleasure to know. I'm grateful to have found this gem of an artist and highly recommend Vitti Art for all your artistic projects!"
Client Since 2014
Google Review: Mike S. @ Temple Beth El, Boca Raton
"We have turned to Vitti Art Decor & Painting on several occasions for work at Temple Beth El of Boca Raton and the Beth El Mausoleum. Mabel is not only an incredibly talented artist, she is a delightful person and a pleasure to work with." Client Since 2018
Google Review: Debbie F., Boca Raton
"I used Vitti Art and Decor a couple of times in my home. They are wonderful and so talented. They are a delight to work with. They are very concerned with customer satisfaction and because they are so talented you will be very satisfied. I am so happy with their work. I recommend them very highly."
Client Since 2018
Facebook Review: Caryn P. @ Clive Daniel Home
"Mabel has done work for us at Clive Daniel Home. She is an amazing artist and does great work!"
Client Since 2016
Google Review: Grant L., East Boca Raton
"Mabel, did an incredible work on our project. In essence she painted our dated custom built-in media unit (floor to ceiling and wall to wall) in the family to look fresh and modern matching our renovated kitchen. I would recommend Mabel."
Client Since 2017
Highlights of Vitti Art Decor's History
Vitti Art has experience with some of the largest franchises in the United States such as Old Navy, Red Lobster, PGA National Resort & Spa and Boca Tanning Club; to name a few.  These projects were large scale and information about them is below.
To see more Commercial projects as well as our vast Residential portfolio, please explore our website further or feel free to contact us directly.
RED LOBSTER:
60 stores in the US and Japan.  Over 200 Decorative Boards were hand painted with different types of fish. These wooden art panels were used for the restaurant's decor as well as for booth separators. 
OLD NAVY:
3 Locations in Florida painted floor murals of OLD NAVY Logo.
BOCA TANNING CLUB:
Vitti Art completed 22 whole-interior murals throughout the US.  You can see some of the mural scenes of Tropical Rainforest Art here. These murals were custom designed by our Artist/Owner, Mabel Vittini.  Scaffolding set; Mabel and occasionally her team, would hand-paint all interior walls, ceilings and sometimes floors of each store. A full portfolio is available for viewing.
PGA NATIONAL RESORT & SPA:
Painted Arezzo Restaurant Ceiling Mural – Two month project. Mabel Vittini painting "live" in the Arezzo Restaurant. The Artist hand-painted on scaffolding on her back, a reproduction of 3 Michelangelo Frescos from the Sistine Chapel on the Arezzo 45′ x 65′ ceiling while patron's of the restaurant dined.  Part of the mural was the 12 side panels in which Mabel painted scenes of Tuscany and Venice. Click here to view Portfolio of her work from the Arezzo project.
"Live" Event Painting at The Poolside Concert Series:
Roberto Perera signed portrait by Mabel Vittini during performance at PGA National Resort & Spa "The Poolside Concert Series"
For more information about Jazz Harpist, Roberto Perera, please click here. (Billboard Latin Jazz Album of the Year Recipient 1993)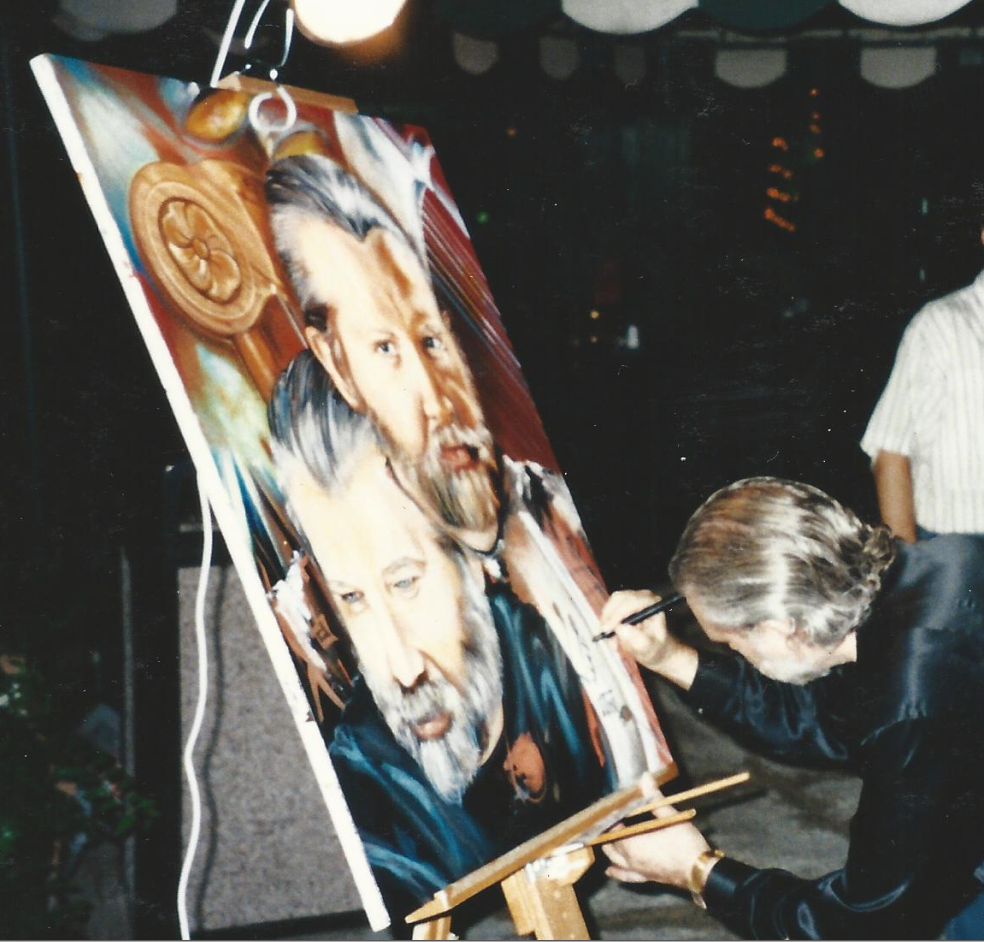 Spyro Gyra signed abstract by Mabel Vittini during performance at PGA National Resort & Spa "The Poolside Concert Series."
For more information about the American Jazz Fusion Band from Buffalo, NY, Spyro Gyra, please click here.